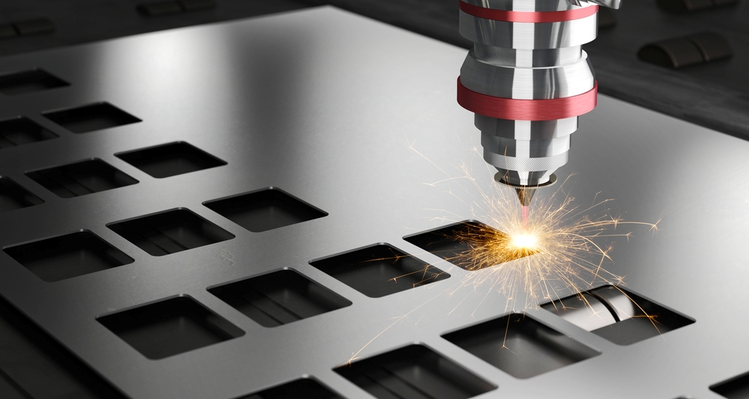 November 10, 2023
A Closer Look at the Latest Laser Cutting Trends
Fast fibre laser cutting machines are hard to overlook. They make 10-year-old CO2 laser-cutting machines seem excruciatingly slow.
Metal fabricators constantly upgrade their laser cutting capabilities for reasons other than speed. Even the most advanced systems from a few years ago required operator intervention to complete jobs they now automate.
Due to the tight labour market, metal fabricators are using technology to keep production flowing smoothly. Similar thinking applies to laser cutting. Consider what contemporary laser cutting technology accomplishes for metal fabricators.
Trends in the laser machine industry
CO2 lasers market
CO2 laser marking works on wood, plastic, acrylic, fabrics, and stone. Pharmaceutical, food packaging, and electrical industries employ CO2 laser technology extensively. Lasers cut thicker materials faster and smoother. However, lasers need more power than fibre, increasing running expenses.
Laser type, end-use industry, and geography split the CO2 laser market. The CO2 gas laser segment is the most promising, driven by the automotive, manufacturing, defence, and healthcare sectors. North and South America, Asia Pacific, Europe, and Africa have the largest market growth potential.
The market for fibre lasers
Engraving, etching, annealing, and high-contrast marking are fibre laser capabilities. These lasers are useful for marking numbers and barcodes on metals due to their narrow focus diameter. Fibre lasers last longer, are maintenance-free and are smaller than CO2 lasers.
Fibre lasers are used for cleaning. Laser cleaning devices remove rust, paint, oxides, and impurities from metals in many sectors. High-power laser cutting machines (20 W to 6k W) cost more.
Laser market growth is anticipated to be 10.9% from 2017 to 2023. Market growth is greatest in North America and Europe, although Asia Pacific, the Middle East, and Africa also offer potential.
Diode laser machines market
Laser pointers use diode laser technology, which is similar to light-emitted diodes. Diode lasers first struggled to cut metal, but technology revolutionised the sector. A direct diode laser (DDL) equipment directs a single beam of light from numerous diodes at the surface of interest.
Because they work on bright surfaces like copper and aluminium, diode lasers are more efficient than fibre lasers. Because aluminium absorbs the diode laser wavelength, the cutting speed is 100% faster. High-powered diode machines work 10-20% quicker on metals than fibre lasers. Finally, they improve edge quality with denser materials.
Developments in laser technology
High-powered laser technology increases every year, and 6kW or greater laser-cutting devices are becoming more prevalent than 4kW ones. Cutting manufacturing time in half is the biggest gain.
The following sections address the most important laser-cutting market innovations and their future and uses.
Laser-cutting machines offer single, double, or low-consumption nozzles. Single-nozzle nozzles are the most common and slice slowly with limited tapering. Thus, single nozzles use lots of gas. Double nozzles save 50% more gas than single ones. For organisations cutting quarter-inch or denser materials, low-consumption nozzles are the fastest and most efficient.
Power boosts system efficiency and performance. Thus, powerful lasers can slice quickly and improve boundary accuracy. They increase laser performance by permitting denser cutting scales. Every nozzle design works for different materials and purposes.
Laser cutting productivity
Lasers can cut, drill, mark, and weld, and some models can engrave for a more personalised experience. These machines deal with wood, alloys, metals, ceramics, and polymers.
Laser cutting in Abu Dhabi or printing is best for customising products for businesses because it works with diverse materials. These machines have many building uses due to their uniform shapes and sizes and 2D and 3D precisions. Laser cutting is a fast way to customise residential and commercial sheet metal production.
Laser automation reliability
Technology has automated many tasks, lowering manufacturing facility size and expanding laser automation options. Laser cutting in Abu Dhabi automation material handling systems include standalone machines with shuttle tables, load-unload laser machines, and flexible production systems.
Cutting tables, scissors, labellers, and carts can be utilised independently in any automation system. Automation can boost output and productivity while lowering labour. To meet increased demand and encourage progress, automated testing cycles are shortening.
CO2 and fibre lasers dominate the market, hence the industry needs more powerful laser-cutting equipment. Modern machines with 6kW power and nozzles that reduce gas use and production time are desired.
Other laser-cutting machine innovations
Adaptability: The latest G series laser cutting machine can be placed on plasma arc cutting equipment. Installing and using it on the original foundation saves time and money. An optional bed base lets customers without a cement foundation install and start production immediately.
Bevel cutting: G series laser cutting machines can bevel cut. V-, C-, Y-, and K-shaped bevels are most common in agricultural and construction machines.
Enhanced safety: Back and front beam gratings improve safety on G series laser equipment. An emergency mechanism activates when an object or person enters the beam's safe distance.
Active obstacle avoidance function: Laser machines can identify impending obstacles and avoid collisions swiftly. This fast response eliminates interference cutting and laser head accidents during cutting.
The laser cutting in Abu Dhabi market changes due to technological advances. Improvements in performance have made CO2 and fibre lasers the market leaders, but external variables also help.
Direct diode lasers will have the highest CAGR due to their improved handling capacity, simplicity of service, reliability, and lower operating costs. Their broad application in ablation and heat-affect zone etching has also boosted their expansion.